More About Us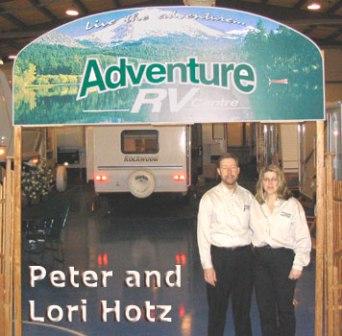 CLICK ON THE PICTURE FOR A VIDEO INTRODUCTION.

Having purchased the business in June of 2003, current owners, Peter and Lori have spent countless hours trying to perfect your RV purchase/accessory/service experience. Both being avid campers, Peter and Lori understand the wants and needs of today's campers. They have built the dealership on the foundations of knowledge, trust, respect and friendliness. You can always count on a knowledgeable, friendly face greeting you as soon as you enter our doors. We are professionals at what we do!
The sales staff at Adventure R.V. Centre are NON-COMMISSIONED !! Unlike most dealerships, at Adventure RV our only interest is to help you find the RV that is perfect for you, in a friendly, no-pressure environment.
We use our knowledge to purchase superior products that will provide our customers with the very best construction, design, and value available today.
It is our firm belief that an educated consumer makes wise choices, and we do our very best to help you understand the differences in quality and price. We will not purchase an inferior product just to save a buck, and neither should you.
We have a large selection of both new and used units for you to choose from, so stop by and experience "the Adventure RV difference" for yourself, and realize that your dream of a simpler, more relaxed lifestyle can take you almost anywhere! Remember, "Your next great adventure is just down the road" and we're here to help you get there!
Latest News
Bill and Joan from Woodstock. Loving Our new trailer guys!
Bill and Joan