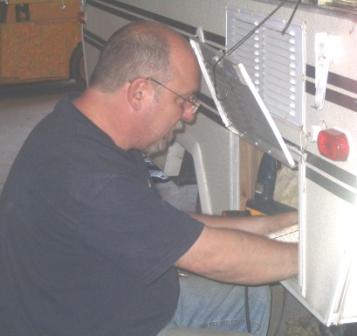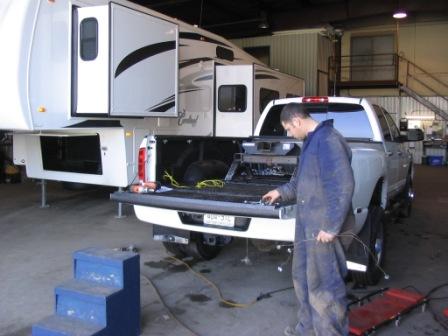 Some time ago we realized that to be "truly" different from the rest we had to "care" about our customers like a family member. We don't sell trailers, we sell and support a lifestyle. To support that lifestyle, whatever that is, we knew that we needed a service department that could support our extended family. We have tried various things but the best combination still is to provide you, our family, with the best people and best practices we can. Our techs are experienced and licenced. Our service manager, Dezi and our parts/accessory rep truly try their best to accommodate and make your service experience the best possible. If you need service to your hard top, travel trailer, fifth wheel or motor home, give us a try. There is a difference, the Adventure RV Difference!
---

Click here for your Refrigerator Recall information
---


The answer to troublesome leaks:


For only $99.95 (on average - depends on size of trailer), the Seal Tech Test can diagnose quickly and effectively those tough to find water leaks. It helps eliminate costly repairs down the road due to hidden water leaks.
---
FANTASTIC FALL WINTERIZING SPECIAL !!
ONLY $79.99 INCLUDING ANTIFREEZE. With this we will drain and bypass your water heater, void your fresh water system of water by installing plumbing antifreeze throughout your entire water system. We will then put your system back to summer mode but will leave the anode rod out if you have a Suburban water heater. This will need to be reinstalled in the spring once you OR we have flushed it out. In conjunction with this I would highly recommend that we inspect and reseal the roof as necessary. There is an additional charge for this for the time and materials that would be used. The above is based upon your grey and black water tanks being empty. If you require us to empty them we can do so. There is a dumping fee of $30 for this service.

WINTER STORAGE AVAILABLE !!
Only $35/month !!