2013 Show Season
Posted on Jan 8, 2013
Happy New Year to All! We are now hard at work preparing for the following shows:
Simcoe, 10th Annual !!! at the Aud complex on the Norfolk county fairgrounds. Over 30 trailers on site with HUGE savings.

Friday Friday Feb 01 4pm-9pm, Sat Feb 02 10am-5pm and Sunday Feb 03 11am-4pm.
London RV show and sale: The Agriplex complex at the London Fair raceway:
Friday Feb 15,16,17 & 18th. Please use the following link for further information and for a discount coupon
London RV Show http://londonrvshow.com/coupon.html

Christmas Season
Posted on Nov 30, 2012
Good afternoon my fellow campers! Not much camping going on these days unless you have or will be heading south. Or, for the hearty, winter camping! If you are up to trying winter camping there are several parks that offer this. Some of our customers that do this, rave about it!
Now that December is here, all of our thoughts generally turn to the holidays. We get very lonely here at the dealership as our camping families tend to forget that we have exceptional Christmas ideas and gifts that would make the camper or campers in your family happy to receive. Everyone tends to gravitate towards the big box stores for their gifts when we have NEAT stuff not BORING stuff! We will only be closing for two weeks from December 22 2012 to January 6 2013. After that we are pedal to the metal with show preparations. Our first show is February 01-03 inclusive, again at the Aud complex in Simcoe Ontario. Please mark it on your calendars as this year DEALS WILL ABOUND. The next show we will be attending will be the London RV Show and Sale February 15-18 2013 at the Agriplex complex adjacent to the London Fairgrounds. Make sure you print off the coupon from the internet to get in for less.
With the new Puma line of trailers ready to arrive we say goodbye to the Salem line of trailers. We will still be honoring the warranty for the units that we have sold but will be supporting the PUMA line along with Rockwood extensively this coming season. PUMA has impressed us with their attention to "getting the job done right the first time" attitude. Our plant tours impressed every one of my staff. It has been a hard decision to switch camps but we feel that the "little things" that PUMA does better will result in a better product for our customers and for us. Come check them out. They are arriving daily now.
By rationalizing the product that we carry to mainly the Rockwood and Puma, we have been able to buy MORE of them! Selection of these products will be the best we have ever had. Rockwood has some of the nicest offerings they have ever had. More units are now available with their new DIAMOND package that make them a truly higher class trailer. Again, units are arriving daily. Come check them out.
We are again looking at bringing our customer new and inovative services and products. We can't wait to show you some of the new goodies in the accessory department that we have scoped out for you this upcoming season. As for the service end of things we are investigating offering tire balancing. We are investigating appropriate equipment at this point and are looking at tire and rim suppliers as well to supplement this. Let us know your thoughts on this as equipment isn't cheap. Would you spend $20 per tire? More costly than a car but not as easily handled as a car either. Let us know.
Well, that's it for now. Stay in touch and remember, Your Next Great Adventure is Just Down the Road!
Sincerely,
Peter
FALL
Posted on Oct 11, 2012
Well, it has come to that time of year again when we all start packing the trailer up for winter. Sad days these are. But wait! We have exciting news. We are taking on the PUMA line of travel trailers, park models and fifth wheels. This is so exciting that we can't wait until we get our first units in! You will have to make sure to check out our inventory ASAP! Call Ralph and ask for details.
On the parts and service front, we have hired a new parts person. Her name is Debbie. Call her DJ. She is a great personality that will fit well with our group and with our customer base. Please help me in wishing her the best and the next time you are in say HI!
With this time of year comes SALES, SALES, SALES! we are so sold out of inventory it isn't funny. There are still a few units before our new stock arrives that we want to make a deal on so please see Ralph for the best deals of the season. You won't be dissapointed!
Please also note that we have the best inventory of consingment units that we have EVER had. People have realized the value by having us sell their units that we have soooooo many units to sell that it is hard to stay on top of. MAKE your deal happen today!
Lastly. Whomever has been in lately has met Marley. Our one year old yellow lab and "official" greeter. She has been officially promoted to "Assistant Sales Manager". Please join me in congratulating her on this promotion. She has worked very hard at making everyone's visit a special one and is with great pleasure that we announce this! Thank you Marley for being such a memorable part of our lives.
Not in jest now, is my and my wife's sincerest appreciation of our customers. You have been there for us this year when we truly needed you to. We WILL go on to be the best that we can be and BETTER with your continued support. PLEASE make a point to stop in and see us over the winter months as we will have many great Christmas ideas and will always have the coffee on for a warm hello and a chat! We are of course your humble servants in this glorious industry.
Sincerely,
Peter, Lori, Ralph, Len, Richard, Debbie and of course Marley!
Open House
Posted on Apr 5, 2012
Well, I can't believe that it's that time of year again when our Annual Open House and Sale is here. Running from Friday April 20th, 9am-7pm, Saturday April 21st, 9am-4pm and Sunday April 22nd, 11am-4pm. We again will be having a beef BBQ on Saturday and Sunday so be sure to come hungry. Be sure to check out our inventory and accessory specials this year. New this year, we will have some great Door Crasher deals. You'll have to come and see what they are. I have been told not to let the cat out of the bag by Clint, my parts guy. Deals on trailers have really never been better with the exchange rate at par. RV manufacturer's reps will be on hand to meet and greet so be sure and say hi to Rick from Rockwood and Aaron from Salem. Our used inventory is huge as we have now over 25 units on consignment along with our own great selection. There is sure to be something for everyone in this mix. Len, our service manager is offering up deals on extended warranty programs for this weekend ONLY. Please put in a good word for nice weather if you could. It is always much more pleasurable when the weather is on our side. We are looking forward to kicking this season off with a BANG so please come and be part of the festivities. You all are part of our extended camping family and are always glad to see you. Remember, we are just down the road and ARE your RV experts.
Sincerely
Peter and my Team
SHOWS!!!
Posted on Jan 23, 2012
BREAKING NEWS!!!!
Back by popular demand is our Indoor Show and Sale at the Aud complex on the Norfolk fairgrounds. This year it runs from Friday February 10(4-9pm), Saturday February 11th(10-5pm), Sunday February 12th(11-4pm). This year will see the best deals that we have EVER been able to offer. We will be displaying a nice selection of our current 2012 inventory but will also have on display some new "off model year" units as well. This means absolutely the best savings that you will find ANYWHERE. No reasonable offers will be refused. As an even better treat, we have the Trailer Centre's Larry and Brian joining us this year. They are bringing in 3 Rockwood fifth wheels that are off model year units that will be sure to save you thousands over new!!! This year we have returned to doing a direct mailer to over 6400 households with the details of the show. If you don't get one, don't worry, call us for details and make sure we have your mailing information and it is correct. Even better, sign up for our email program so that we can update you with specials, news and events right from the comfort of your computer.
We hope to see all of our former customers and a few new ones at the show and sale. Happy camping!!
Peter

Marley
Posted on Dec 20, 2011
I would like to introduce you to our newest Staff member, Marley. A yellow lab puppy. Unfortunately, if you read the news item just before this one, we lost our girl Casey. We had a hard time with the loss and weren't sure if we should get another dog right away. Our home lives and here at the shop weren't the same as anyone knows that has lost a member of their family. Life just wasn't the same. We decided that IF we were going to get another pet that this time of year was the right time as "puppy training" takes a lot of effort and in the spring it is too busy at home and at the business to spend the time it would need. We found Marley west of London at Green Acres Kennels. Her color and her parents were what attracted me to her. Her coat has a "reddish" ting and she is truly beautiful in appearance and temperment. She is a treat to have here at the shop as she LOVES greeting everyone. Once the door chime rings, she runs from my office to see who has come in. Please take the time to say hello to her the next time you are in.
Marley Ginger Hotz, born September 13 2011.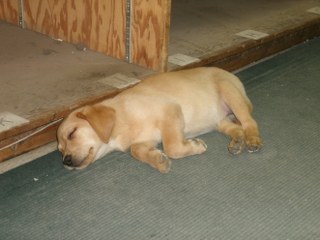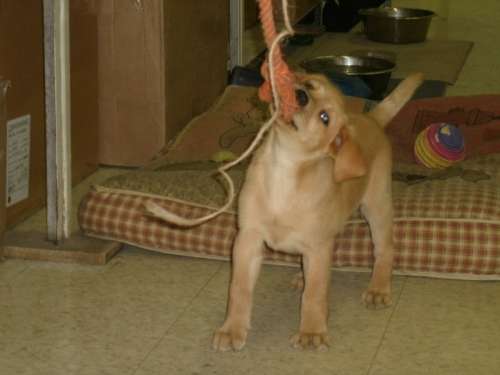 Casey
Posted on Nov 27, 2011
It is with a heavy heart that I write this. Our greater, Casey, a chocolate lab was killed on November 11 2011 when she was hit by a car at home. She was 4 1/2 and will be sadly missed by her family at home, here at Adventure RV Centre and by many that she touched in her time here with us. She loved coming to work every day and greeting everyone that came through our doors. Her favourite past time was swimming, retrieving and everything about the water. Good bye Casey, your family at home, here at the business and your extended family will miss you!
Casey Hotz, April 1997-November 2011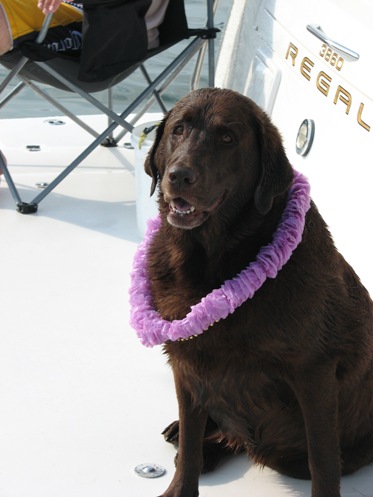 Newsletter
Posted on Nov 26, 2011
Hello to all! We are in the process of starting and Email newsletter. Once we start to get enough people signed up I will start to put out newsletters, bargain pages, events listings etc. Take a minute to sign up. Go to our home page and enter your name and email. I'm sure that you'll love the RV tips, newsletters etc.
Thanks and go safely!
God Bless!
Peter
Importing a trailer
Posted on Oct 6, 2011
Just wanted to take a minute to make sure that everyone is aware of the implications of importing a trailer from the US. There are regulations that most consumers are not aware of and I wanted to share them with you. When purchasing a trailer in the US you may be told that ALL you have to do is to call the Registrar of Imported Vehicles (RIV) to get it registered and get a sticker.
This in only ONE part of the equation. The consumer is NOT generally told that If the unit is not CSA prepped by the manufacturer , it can not be retrofitted, then there are at least three things that are required.
One, get your RIV sticker. Easy.
Two, get a field evaluation technician from ESA (Electrical Safety Authority ) to perform a an evaluation on the electrical components and installation to ensure they meet the requirements of all applicable standards. Not as easy but with our help can be arranged. There is a fee from ESA for this and it ain't cheap.
Three, get a TSSA certified contractor to perform a propane system inspection. This can be usually done at your local RV Dealership AS LONG AS they are registered with TSSA having a contractor's certificate and have certified propane technicians on staff. The basic inspection would include a propane leak down test and verification the the propane system layout/construction meet TSSA codes. Prices will vary on this depending upon the trailer layout/configuration.
The basis for all of this is that all new recreational vehicles are REQUIRED by law to meet CAN/CSA-Z240 Standards for RV's. The Z240 standard covers off many standards including plumbing, electrical, propane etc.. Thus if the trailer does not come into Canada bearing the CSA certification label this does not mean that the other components under it's umbrella can be ignored. The two that are the most important are the ESA inspection and the propane inspection as directed by TSSA (Technical Safety Standards Authority). If these are NOT completed then you as the owner are at risk as well as the dealership that services your unit of legal action and fines. This is only the case of course IF an issue such as a fire, propane leaks, electrical issues etc. takes place. If I as a contractor for TSSA work on your unit without having done an inspection and an issue arrises I will minimally loose my licence and more than likey face stiff fines and possibly charges against my dealership and my technician performing the work. We are bound to inform TSSA of all issues arising from propane related issues. An example would be a fire in a water heater that may have been caused by nothing more than a backflash from a spider web blockage. If the unit is brought to us for inspeciton/repair I am obliged to report it to TSSA and document it with the corrective action. If in the investigation it is noted that the unit was not properly covered off under the Z240 standards then the red tape machine starts pouring it out. You may say, there can't be that many differences between a US unit and a CSA spec'd unit if they go down the same assembly line. Actually, there are a number of differences from the use of wire loom, heavier gage wire, certain specs on breakers, propane connections limited to below the floor unless directly at the appliance etc. etc. We as a dealership pay a premium for trailers to be built to the Z240 specifications to cover our and your buts. Does this make the trailer any less safe. In my humble "opinion", NO. I am however not the "MAN" here and my "opinion" is only that. The downside is that CSA Z240 standards and the US RVIA standards are not compatible and we must ensure due diligence and take the action of a reasonable person and make every effort to conform to the code like it or not. Trust me when I say that I hate red tape and this is a perfect example.
Please note that this in NOT meant to scare anyone. This is only to inform you that we are NOT messing with you or trying to screw you over when you come in for service. I can not work on it, nor will my techs even consider working on it until we address the ESA and TSSA inspections. Once completed we will be more than happy to assist you with all of your service needs. Should you wish to understand and learn more for yourself their are a number of resources. First of all, contact the ORVDA. (Ontario Recreational Vehicle Dealer's Association) at 905 659 8880. Larry Boyd is the President and will be more than happy to verify my ramblings. You can also contact ESA at 800 559 5356 and ask to speak to someone in the ESA field evaluation Services Group.
If you wish you can google CSA Z240 specs to get the full low down on the requirements.
Peter

Home Renovations
Posted on Sep 30, 2011
For those that have not noticed the new tab at the top of our web site. You will find a new tab that says "Home Renovations". That is correct! As I have stated on that page, I hired on a new technician earlier this year that had previously worked in the renovation field for years to instead work on trailers that have seen better days etc.. I and many customers have been very impressed with his skills and his efficiency. Now that the season is slowing here on the RV side, he has agreed to again pick up his tool belt to provide YOU with an opportunity to work on your Home projects under our business. We will provide him with the necessary tools, trailer, vehicle and of course backing and buying power. His work is second to none and there really isn't anything that we can't handle. He will be assisted by myself and others as needed to complete your project on a timely and cost effective basis. I am extremely excited about this new offering as it should keep us busy during the slower parts of the RV season and if it really takes off, well, who knows?? Call today for you personalized quote. References are of course available upon request.