HOLE IN ONE CONTEST
Posted on Sep 8, 2010
We at Adventure RV Centre wish to thank all participants of our recent "Hole in One" contest held at Woodside Greens golf course on Monday September 6th. The weather may not have been great but the spirits were high as 20 contestants vied for $25,000 in prize money to be used towards the purchase of an RV from Adventure RV Centre. Closest to the pin was David Bridge of Simcoe Ontario. For that he won a cool $500 from Woodside Greens. We wish to thank CD 98.9 for assisting in the successful event. We could not of course, no pun intended, done this without Woodside Greens and their generosity. A Huge thank you to Grant and his staff. Anyone that is a golfer or like me pretends should check out the golf course. We look forwards to running this event again next year!! Please stay tuned.
Tech Tips
Posted on Jul 21, 2010
Please make sure to check out our "Tech Tips" on the service page of our website. Peter has been contracted to do 12 articles for a local paper. The first 4 on electrical truths and myths, the others to be determined. What inspired these tips was the "walk through" that Peter gives all of our customers when they purchase a new OR used trailer. He spends approximately 1.5-4 hours with his clients , depending upon their knowledge and product complexity, with them to ensure they are educated on their purchase. Gone are the days when the customer would be given a handshake, the keys and a brief tutorial on the trailer and sent down the road at Adventure RV Centre. Peter feels strongly that education is key to customer satisfaction. Peter is enthusiastic about his walk throughs as he is very technical person who enjoys sharing his knowledge. He holds a diploma in Mechanical Engineering Technology and is a Certified Engineering Technician. He also holds his RV-1 propane certificate. Please feel free to email peter on any of the articles or to seek advice or to submit your own article to our website.
Open House, DON'T MISS IT!!
Posted on Apr 6, 2010
Hurry in for the best selection and pricing! April 23rd,24th and 25th. Don't miss the beef BBQ on Saturday and Sunday. Always a HIT. No burn't weenies here. We truly appreciate our customers! openhouse2010.jpg

Prices at an Eight-Year Low!
Posted on Feb 18, 2010
There's never been a better time to GO RVing!
An excerpt from the latest GO RVing magazine
Canada's economic situation in the late months of 2008 say the RV industry transform. Go RVing Canada officially kicked off the RV season by announcing that RV prices were at an eight-year low for Canadian consumers.
In today's economic climate, Canadian consumers are increasingly looking for ways to save money and make their recreational dollars go further. Consumer price data from Statistics Canada has shown that the last time RV prices were at this level was in early 2001!
"It has not been this easy for Canadians to get into a new RV for a long time", said Go RVing Canada spokesman Alana Foantaine," and to top of the decrease in prices for the RV's themselves, gas prices have been more than cut in half in the past year, so operational costs for RV's are also lower than they have been in years".
Go Rving Canada continues to inform Canadians that, even in times of economic uncertainty, RV's offer economy not found in any other vacation options. Depending on the RV model, and RV holiday can save a family of four anywhere between 50% and 70% over the cost of other forms of vacation travel. Including all RV ownership costs such as leasing payments, insurance, maintenance, tires and registration, an RV trip still works out to be more economical when compared to a week's vacation for 4, when you consider the costs of flights, car rental, hotels and eating out in restaurants.
Casey's Birthday
Posted on Feb 17, 2010
Hello to all our of our existing and new customers. Casey, our Princess, is almost no longer a teenager with her third birthday closing in on sometime in the first part of March! Thanks for the unconditional love and entertainment you provide Casey. For all that have yet to meet Casey, she LOVES to play, especially tug of war. She can be a bit skittish with strangers but warms up quickly. Make sure to say hi when you are in next and wish her a Happy Birthday!!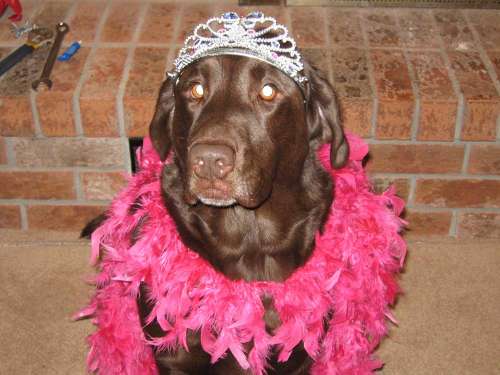 The Adventure Staff
SHOW SEASON !!!
Posted on Feb 4, 2010
Well, it's the time of year to get out an view all of the new and exciting products for the new year to come. And by what we can see there is a lot of pent up demand for product right now. The Toronto RV Show at the Congress Centre saw record attendance. What this means is that if you are seriously in the market, get out NOW to get in on the fantastic deals that are out there. There are plenty at our lot and at our shows. Thanks to those that turned out to see us at the Hamilton RV show and Sale. Attendance was up about a 1/3 from last year telling us that you all are eager for better things to come. Also mark on your calendar not to miss our 7th Annual Indoor Show and Sale at the Aud on the Simcoe Fairgrounds the weekend of Feb 12,13 &14. See attached flyer for details! Good luck to all and SHOP EARLY for best selection, prices and delivery dates. Remember, first come first served! For all those that have decided to purchase early, GOOD for you! YOU are now OUR priority!!
Again, Thank you for a fantastic 2009 and an even better 2010!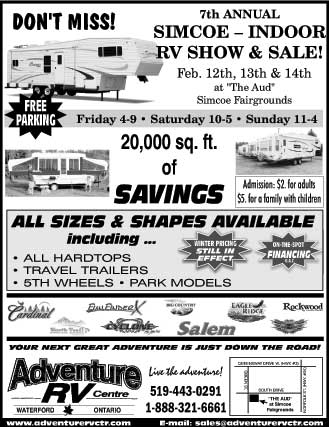 Regards!
Posted on Oct 20, 2009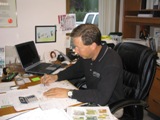 Hello, my name is Peter Hotz. My wife Lori and I are the owners here at Adventure RV Centre just outside the village of Waterford, Ontario. We are located south west of Hamilton and directly south of Brantford. The setting is rural and the dealership is a good size, situated on approximately 7 acres of land. We boast a large selection of both new and used units of all configurations from many well known companies in a no pressure, camper friendly environment. We are a full service dealership with a full accessory department and excellent repair facilities. We have tripled our staff since we purchased in June of 2003 to include a full time sales manager, Ralph, financing broker,Jim, a parts and accessory specialist, Kevin, a service manager/writer, Len, warranty administrator,Kevin, 2 full time experienced techs, Rob and Richard, fully propane certified, a detailer, Lori and our official Greeter, a chocolate lab named Casey as can be seen on the Home page, all in an attempt to provide you, the customer, with exceptional service and lasting memories. MY job, is to provide my staff with the necessary tools to allow both the dealership AND them to succeed AND you with assistance through every part of the process of owning a trailer.
I truly hope that you take the time to visit and experience the Adventure RV Difference. Remember, YOUR next great Adventure is Just Down the Road!
Sincerely,
Peter Hotz,CET
P.S. Keep a watch on our site for upcoming training modules. Anyone that has had one of my "walk throughs" when they have purchased a trailer will be pleasantly pleased that they can now review this same information in the privacy and comfort of their homes!
Dometic Refrigerator Recall
Posted on Oct 19, 2009

Dometic recently expanded its recall on a population of two-door refrigerators. The original recall included some two-door refrigerators manufactured between April 1997 and May 2003. The new recall focuses on models manufactured between June 2003 and September 2006. Find out more here...
Adventure RV's New Website
Posted on Oct 18, 2009
Welcome to our new website. We are proud to offer our web visitors a newly upgraded on line presentation of our company and products. Special thanks to Lifeline Design for their prompt and professional approach to our on line needs and we hope you enjoy your visit and finding the information you need right here on our new website. Please do not hesitate to contact us for your RV requirements. Live the Adventure!
Pumpkinfest
Posted on Oct 10, 2009
ItÂ's finally here folks! Next Friday, Saturday, and Sunday, (Oct 16th, 17th, & 18th) is WaterfordÂ's annual PUMPKINFEST weekend! If you love the fresh outdoors and the absolutely beautiful fall colours, take a spin down to Waterford for this amazing annual event.

If youÂ'youv'e never been here before, youÂ'll be astounded as the townspeople go out of their way to decorate their houses, and give a warm Waterford welcome to any and all visitors. Weekend events include a Parade, Crafts, a Sportsmen and Trade Show, Entertainment for all ages, Spook Houses, Birds of Prey and Reptile Shows, the famous Pumpkinfest Â"Pyramid of Pumpkins", and of course, lots and lots of great food, from local cuisine, to your typical festival fare!

While in town, stop by Adventure R.V Centre, (we'll be open Saturday from 9 'til 4) Have a look at the huge array of trailers and 5th wheels we have in stock, and you can take advantage of our Fantastic Fall Clearance Pricing!

For more PUMPKINFEST information, check out their website at www.pumpkinfest.com and IÂ'm sure youÂ'll find that Â"you next great adventure is just down the road" at the Waterford Pumpkinfest!